News archives
Treelines at IMC 2019
"The Future of Mountain Forests" workshop at the International Mountain Conference 2019 in Innsbruck
By: Maaike Bader, September 19, 2019
Treeline excursion with some of the workshop participants to Mt. Patscherkofel. Photo looking west down into the Inn valley west of Innsbruck. Tree species: spruce (Picea abies) and, most abundant at the highest elevation, Swiss stone pine (Pinus cembra).
At the International Mountain Conference, held in Innsbruck from September 9 to 12, 2019, treeline and mountain forest researchers from many parts of the world (including Japan, Australia, Venezuela, Brasil, Italy, France, Finland, Germany, and of course Austria and Switzerland) met in and around the "The Future of Mountain Forests" workshop and poster session, the program of which can be downloaded here.
The workshop, attended by about 100 people, including presenting participants and public, was divided by the moderators into three topical sections: treelines, stress and disturbance, and management. Apart from short (3-minute) presentations, the workshop consisted of discussions about the importance, main factors and research needs for each topic. Treeline-related presentations addressed drivers of treeline shifts, including those affecting seedling establishment (viable seed availability and interactions with alpine vegetation) and those affecting tree growth (drought, growing-season temperature, frost damage, competition), as well as landscape-scale variation in tree performance (establishment or persistence) at treeline and the role of topography and potential indicative value of treeline ecotone spatial patterns. Of course there was a lot of thematic overlap between the sections, the treeline section including contributions about stress and the management section including various contributions about disturbances (the function of forests killed by bark beetle outbreaks or otherwise affected by climate change and disturbances on forest protective functions) and one about montane forest-grassland ecotones (Brasilian Antlantic forest fragments that are stabilised in a grass matrix) with properties and processes potentially resembling those at alpine treeline ecotones.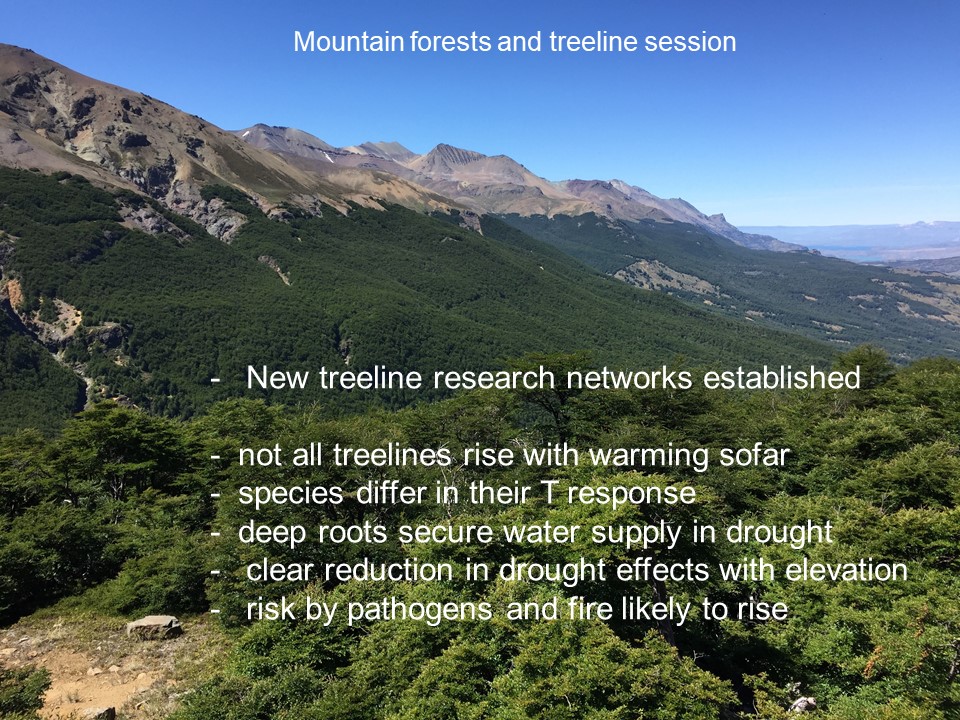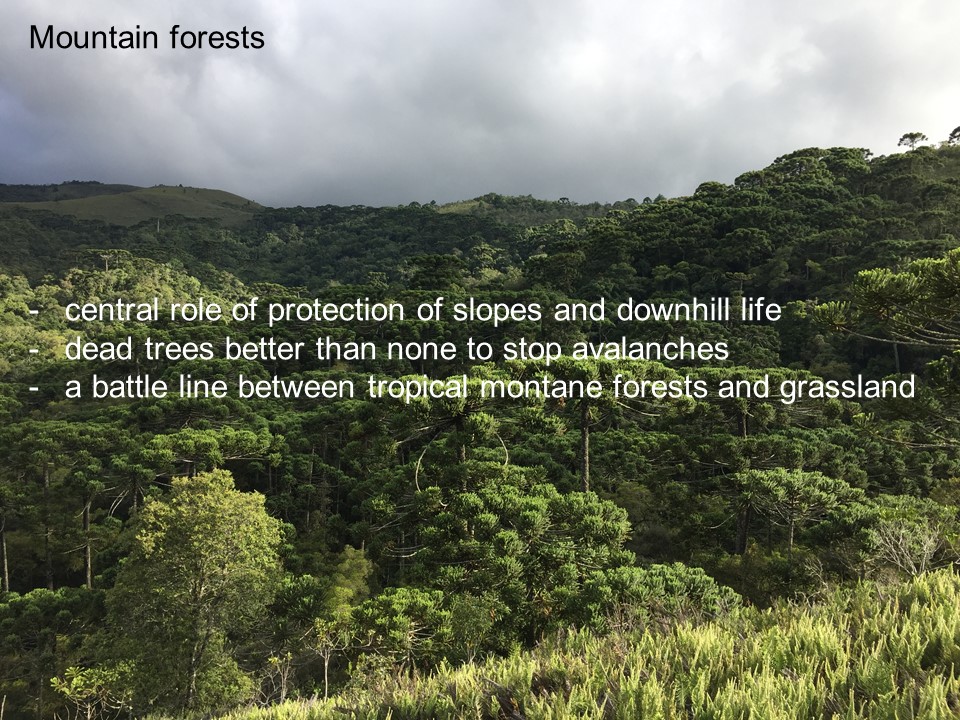 The workshop was summarized in the plenary synthesis session of the conference by Christian Körner as follows, summarizing some key points and picking out some of the most interesting observations made:
New treeline research networks are being established (referring to GTREE and sTreelines / this website)
Not all treelines rise with warming so far
Species differ in their temperature response
Deep roots can secure water supply during drought
Clear reduction in drought effects with elevation
(observed for trees in the Alps)
Risks from pathogens and fire are likely to rise due to climate change
Mountain vegetation has a central role in the protection of slopes and downhill life
Dead trees are better than none to stop avalanches
An interesting battle line was presented between tropical montane forest and grassland
(referring to Araucaria-dominated Atlantic forest in Brasil)
The main research needs related to treelines that were identified include: more attention for soil processes, nutrients and mycorrhiza; using demographic processes and age structures to understand treeline dynamics; using spatial patterns and dynamics for understanding processes; identifying species-specific requirements for recruitment; identfying species-specific growth responses to e.g. temperature, moisture and stress and disturbance factors; identifying sensitivities specific to different ontogenetic stages; understanding (historic) land-use effects; improving the global coverage and distribution of research efforts.
On Friday, some of us took advantage of the great weather to visit Mt. Patscherkofel, passing through a treeline ecotone quite strongly determined by former land use and arguably restricted in its advance due to the "summit syndrome" present on this Föhn- affected rounded mountain. What is likely not limiting here is seed dispersal, judging from the high abundance of nutcrackers, which can disperse Pinus cembra well into the alpine zone. Apart form the close-by view, Mt Patscherkofel provided wonderful views of the surrounding mountains and treeline ecotones. We discussed how much of the landscape has been completely deforested a few centuries ago and the implications for our interpretation of the current treeline ecotones in the Alps. Keep an eye out for the next International Mountain Conference (IMC 2022, Innsbruck, 12-15 Sept 2022).
Back to top
Launch of Alpine Treelines Online
The story behind this website

By: Maaike Bader, September 6, 2019

Treeline composed of larch (Larix decidua) and mountain pine (Pinus uncinata) near the Lautaret Pass, French Alps. Picture taken from a South-facing looking at a North-facing slope.

The idea for this website was born during a synthesis workshop about treeline spatial patterns , held in Jaca (Spain) in 2017. We wanted to provide a platform to share data and exchange ideas about the patterns that can be observed in treeline ecotones (= ecological transition zones) worldwide and the processes that form these patterns and that also determine treeline dynamics. Apart from our scientific interest in understanding the ecology of treeline ecotones, another motivation for this is that alpine (and arctic) treelines, being strongly controlled by climate, are likely to be directly affected by climate change. Expected is an upward (or poleward) shift in treeline position as more warmth becomes available for tree growth. However, the rate of such shifts depends not only on the temperature-controlled growth rate of the trees, but also on many other ecological processes such as seed production and dispersal, seedling establishment, interactions with neighbouring trees and other vegetation, seed predation and herbivory, climate-induced damage and geomorphic disturbances. Depending on the relative importance of these processes, treelines are expected to differ in their spatial patterns as well as dynamics in response to climatic change. This website aims to bring together information about the occurrence of different spatial patterns at treelines wordlwide, about known relationships between patterns and processes, and about methods to study such relationships.

A database facility for scientific data about treeline ecotones is planned for a later stage. At this stage, you will find a map of treeline sites (see Explore treelines) providing basic ecological information and images of these sites, and an invitation to contribute more sites to this map. This invitation is open to anybody that has visited or is planning to visit mountain areas with treelines and that is willing and able to follow the instructions provided (see Instructions for data contributors). The simplest form of instructions is: take a picture that shows the treeline, look up the coordinates of the site on Google Earth or Bing Maps, and send us the picture, site name and coordinates per email. While developing a more sophisticated data management system, we currenlty provide interested site contributors with an Excell file where additional information about e.g. climate and vegetation of the site can be filled in.

Several current research projects will also contribute to the database and to the development of methods to analyse the observed patterns, which will then be shared on this website as Resources. Once enough treeline sites are included in the database, this will be an important resource to detect global patterns in the distribution of spatial treeline types. Back to top